CELEBRATING 100 YEARS!
Johnston's Surveying Inc. (JSI), is under the leadership of W. Turner Wallis IV as president/owner since acquiring the firm in 1992, being also a professional surveyor and mapper. The depth of our team is demonstrated by the tenure of our staff having a combined 190 years of surveying experience serving the Central Florida area.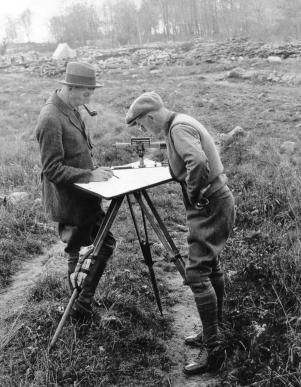 Established in 1920, Johnston's Surveying, Inc. is the oldest surveying firm serving Osceola County. JSI has 100 years of Osceola County survey data that cannot be matched, and in some cases, cannot be found by any other firm or agency. The founder was Joe Johnston and the company originally performed surveying and civil engineering services. William J. (Bill) Johnston, the son of our founder, joined the firm in 1956. In 1989, after 33 years, Bill sold to three employees, one of which was W. Turner Wallis IV who became president in 1992. The original name Johnston Engineers was changed to Johnston's Surveying, Inc. in 1998, as the firm began concentrating exclusively on providing surveying services and ceased civil engineering functions.
AT PRESENT
JSI has a staff of 15 employees, with 13 employees being Osceola County residents. JSI has 5 Professional Surveyors and Mappers all possessing an extensive knowledge of information relative to surveying conditions in Osceola County. Our current technical staff has a combined tenure with JSI of 93 years. This longevity is a sign of the dedication of the team JSI's commitment to serve our clients with quality, timely, and cost effective surveying.
Our field surveying staff is currently operating a state-of-the-art Global Positioning System (GPS,) utilizing a virtual reference network that allows multiple members of each field crew to collect survey data simultaneously. This technology enables multiple survey data collection teams to perform projects, which greatly reduces the field time necessary to complete the assignment. Also, the data is now transferred from field to the office and office to field via the "Cloud," thereby expediting the survey production schedule. It has revolutionized the entire spectrum of survey activities since it allows us to provide our clients with a timely and efficient response.